...BIKING, of course!
Woke up at 5:00a.m. to prep up for the ride (only 2 hours of sleep, and just in time to see my bro come home from his parties =P). Then headed out in full cold gear to join about 50 others at the president's building for the annual flag-raising ceremony. Apparently this has been a tradition for almost a decade for bikers in Taipei...pretty sweet way to start the new year.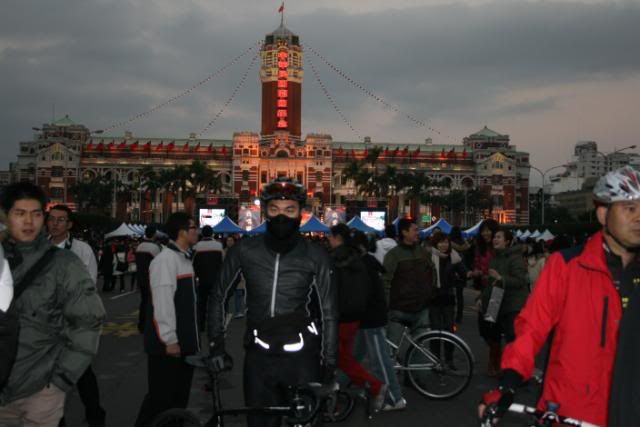 Full cold gear @ new year's flag-raising ceremony. Behind the camera was a small group of highly controversial human rights protesters (not to be confused with bikers).
After the ceremony, we headed out for the day's ride. First, we went across the entire cite (my clipless pedals HATE frequent stoplights!), passing by Taipei 101 on the way.
Taking a proper pic of 101 is harder than i thought...stupid backlight!
After that, we hit some epic McDonald's (that and 7-eleven are the most bike-friendly rest stops here =P) for breakfast and made our way up Xiping highway over a small mountain. The climb wasn't so bad, but the sweat + cold winter wind was more of a danger at the peak, where we all regrouped.
Then we descended into some really well-known (among the locals) old towns: Pingxi and Jingtong. The pack leader chose Jingtong for our lunch destination, and for good reason:
Old-school train station...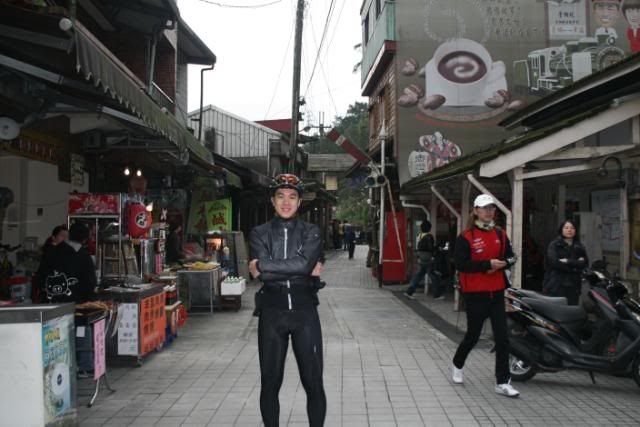 ...and a crap ton of food booths across the colonial-style main-street. YUM!
After the food break, it was a smooth descent back into Taipei city, passing the zoo along the way (bunch of people lined up to see the pandas from china lol...happy new year?). All in all a good 70km leisure/cultural ride. Highly recommend it to anyone visiting Taipei.