After months of drooling at the TCR Advanced SL frame for a few months, the components finally arrived! And of course, Frank (awesome mechanic) made extremely quick progress on delivering the build and fit despite the busy holiday season!
Thanks to all who made this bike build possible: Grandpa for the frame and fork, mom & dad for some of the components, Joseph at Giant for the nametag decals, and Frank & Kevin @ the Cyclery for putting it all together!
This sleek stallion's gonna turn heads!
(Actually, I think it already has while having its pictures taken...)
Without further ado... LETS TAKE A LOOK!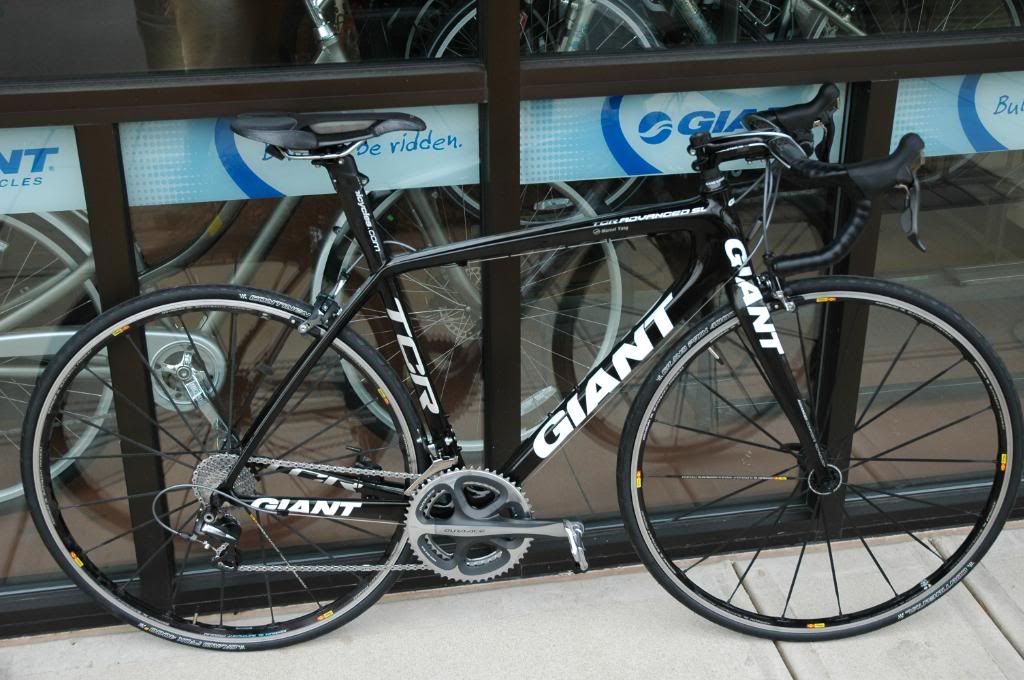 View of the whole bike. Stealthy~
Full carbon composite ISP frame & fork. Ksyrium SL Premium wheelset. Weighs 14.75lbs (6.59kg)...need to add a few tenths of a kg to get it UCI-legal =P...Edge 705?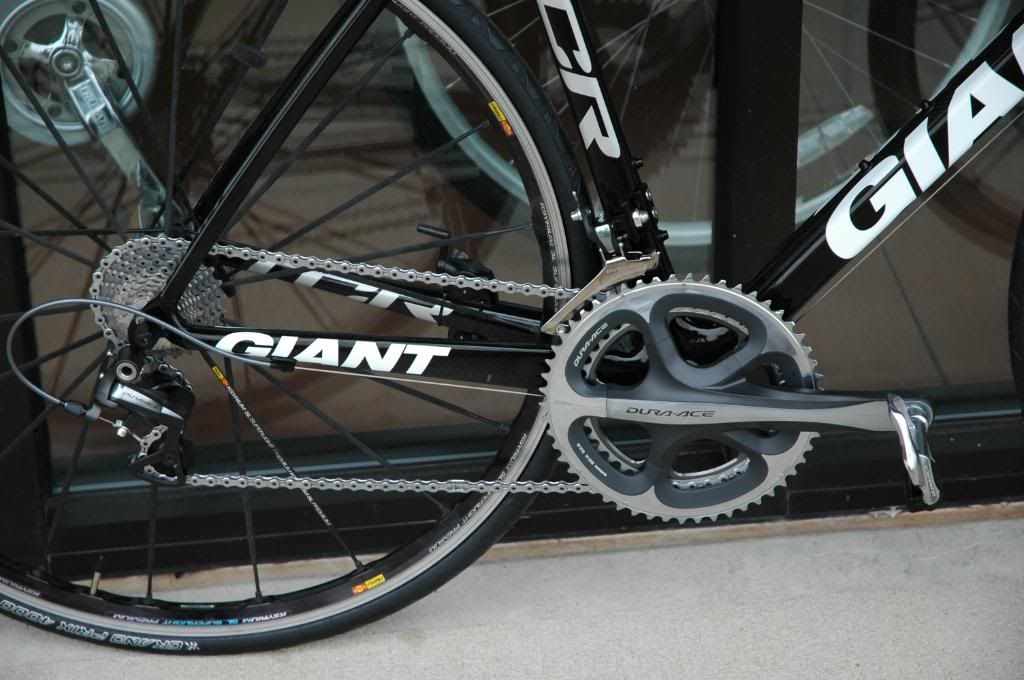 Drivetrain view. Full Dura-Ace 7900 components. The gear teeth and chain has been revamped this year to make shifting much faster and smoother. The trick now is to keep it all clean!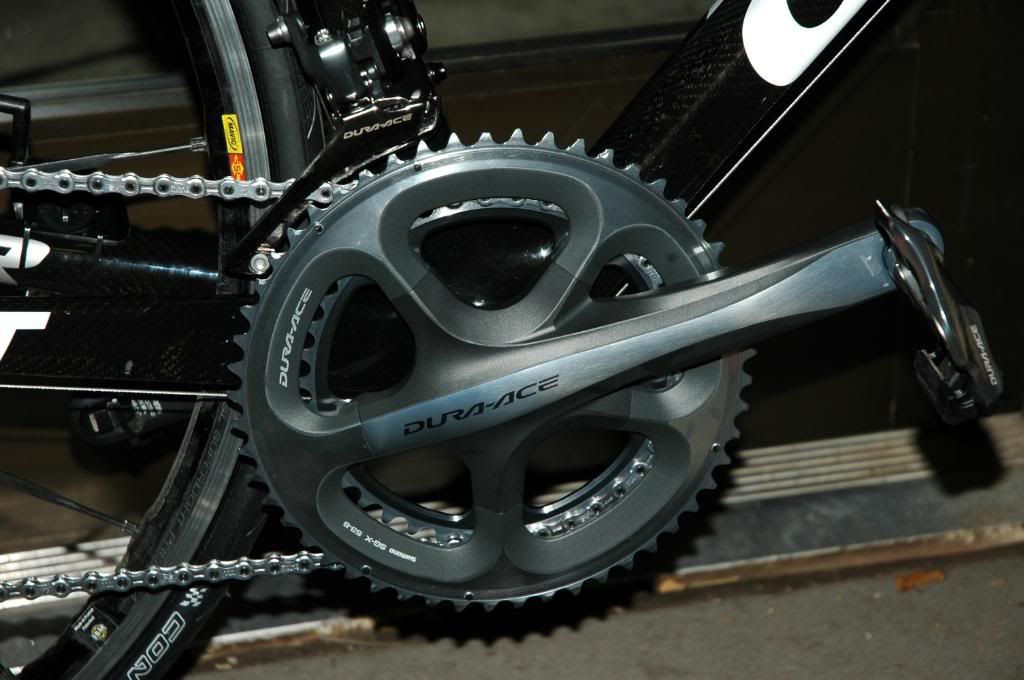 Gorgeous chainring. 53T = POWER!
Matching rear derailleur. The larger cogs on the cassette are made from Ti, iirc. saves weight!
PRO Stealth Evo carbon integrated stem & handlebar. In addition to sleek styling, it also offers an extremely ergonomic grip on the flat bar in addition to the hoods and drops.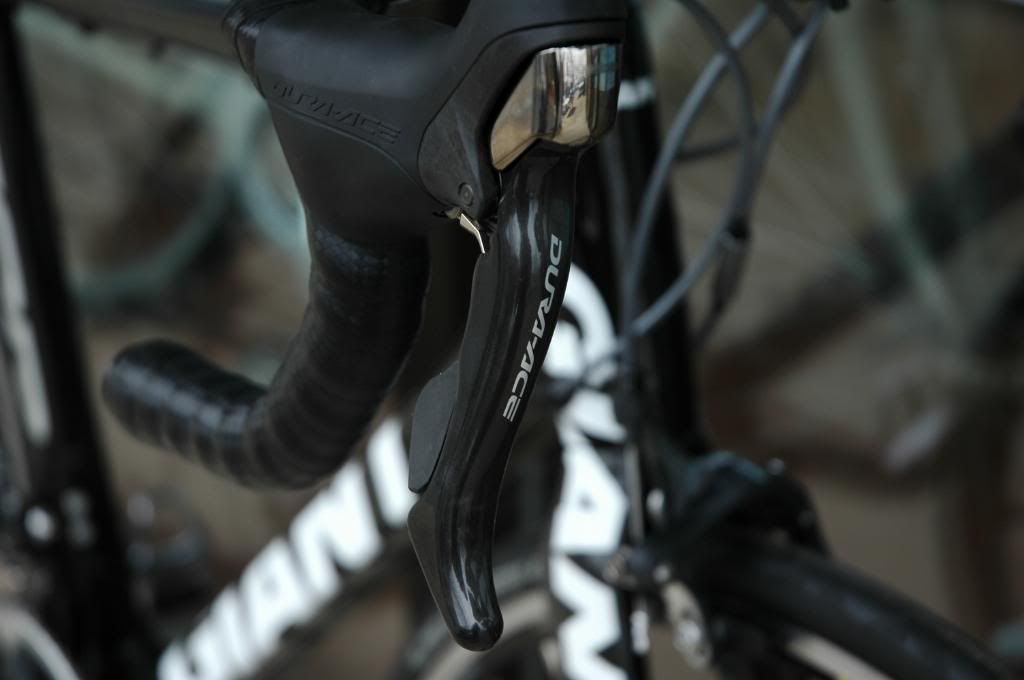 Dura-Ace 7900 Dual-Control Levers.
Much change has been made since 7800; the levers point outwards alot more now, allowing for easy shifting via fingers (instead of having to push with the wrist). Braking is real easy too!
PRO Stealth Evo's matching cpu mounting unit. New home for the gps!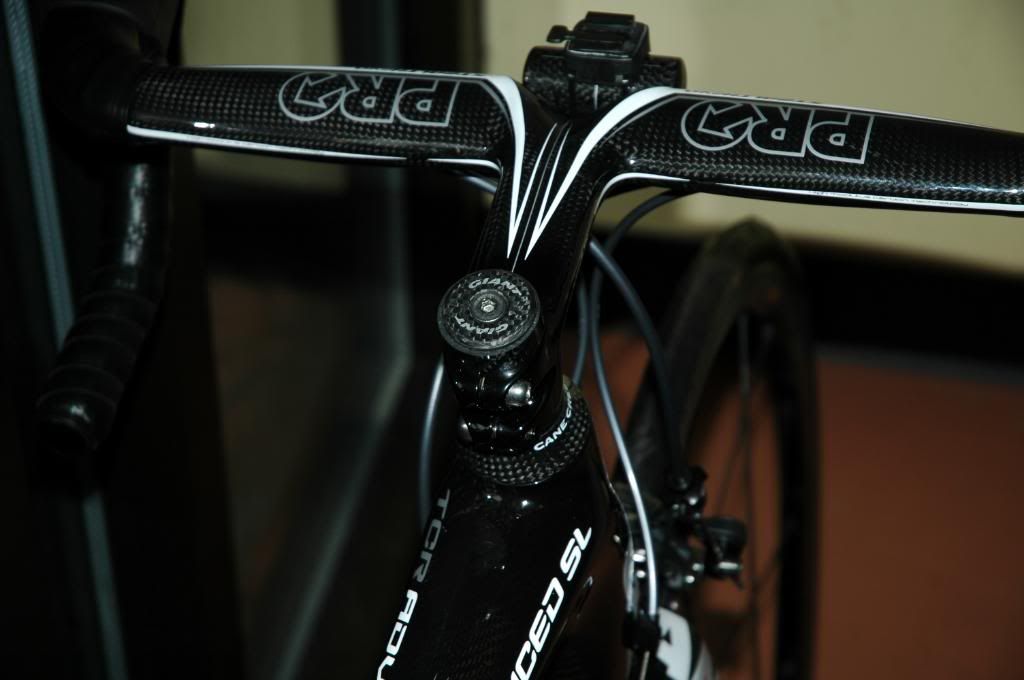 The biggest surprise of the handlebar: aesthetically matches the SL frame down to a "T"!
Front brake. Also sportin' the 7900 two-tone styling.
Beauty of ISP: the seatpost was cut according to my height, although the new saddle mount unit allowed for insertion of spacers, allowing for a good amount of height adjustment capability. On top is the 1-year-old Topeak Allay 1.0 saddle that I've been using. Highly recommend it!
This machine will definitely see a great amount of climbing in the coming weeks, months, and years. Expect tales and pictures!